(Last Updated On: October 16, 2022)
How to manage resistance to change in an organization? "Ch-ch-ch-ch-changes." David Bowie, we, and you were all aware of it. Change is difficult. Progress, new technology, corporate expansion, and higher productivity are all possibilities. This article will share insight into how to manage resistance to change in an organization. Keep reading.
Demonstrating the benefits of a change (and being open about the hurdles of executing that change) is critical in the workplace for getting team members on board and preventing them from reverting to old behaviors. And that entails developing a change management strategy.
What Is the Process of Change Management?
A change management process is a set of actions that guides a team or organization from one state to another. When introducing new technology, reorganizing the company, or going through a rebrand, to mention a few examples, you could employ a change management approach.
It entails providing the necessary tools and abilities to employees who may be affected by the planned change. Setting expectations and ensuring that everyone knows their position and duties in the transformation are also necessary.
Here are a few examples of how change management may help you achieve your objectives:
Increase staff engagement and reduce employee dissatisfaction as your processes and technology change.

Align organizational procedures with the company's ever-changing ideas.

Ensure that your employees' input is taken into account and that their time is valued.

Reduce change costs and risks.

Increase project ROI

As your firm expands, develop consistency and efficiency in dealing with change.
Building an effective change management strategy that is tailored to your company's needs may be more difficult than you think, but it is still doable. Completing a change management project, according to organizational psychologist Nick Tasler, is like running a marathon: it takes a lot of work, but the good news is that "most individuals who commit to a change initiative will eventually succeed."
We're here to assist you as you prepare to run this metaphorical marathon. To optimize the ROI of the changes you make inside your business, follow these eight essential elements of a successful change management process.
How to manage resistance to change in an organization
Here are some tips on how to manage resistance to change in an organization:
1. Define the Changes
Workplace change must be treated seriously. Implementing a change management strategy successfully takes time, resources, and a lot of thought. So sit down and define the change before you set out with grand ambitions to completely revolutionize the daily operations of your office for the sake of it.
Start by answering the following questions with your change management team:
What is the problem you are aiming to solve?

What are the major goals of the transformation?

What advantages do you anticipate observing from adopting the change?

What are the potential negative consequences, and how will you deal with them if they occur?

What human behaviors do you anticipate seeing if the change management approach is successful?
If you can't comfortably answer these questions, you're not ready to go on to the next stage of the change management process.
2. Form a Change Management Group
While CEO buy-in is critical to the change management process, change in the workplace should not happen by accident. Executives that make choices that directly affect employees without consulting them can only result in a disgruntled and devalued workforce.
Change must come from every level of your organization to be successful. According to McKinsey, this will help you engage employees across the business, making the change 30 percent more likely to stay.
Choose individuals from every department and level of the organization who you feel can be change advocates. These are often the people that consistently go above and beyond, never settle for the bare minimum, have a good attitude toward almost everything they do, and are enthusiastic about the work your organization does.
This group will lead the transformation from the ground up, avoiding the bourgeoisie of the workplace. Employees who are normally resistant to change were also included in some leaders' change management teams. This is a common winning tactic because if you can get your most obstinate staff on board, the rest will almost certainly follow.
3. Perform a test run
You may and should execute a trial run whether you're adding new technologies to your tech stack, changing your process, rearranging teams, or anything else.
Your change management team, as well as a few more selected people from each impacted team, should participate in the trial run. The trial should last around two weeks, depending on the alteration.
Hold one (or more) meetings at the end of the trial run to go through every aspect of the modification. What went particularly well? What can be improved? What are the participants' thoughts, concerns, and compliments? Make modifications after listening to the participants.
4. Strategize and plan
Now comes the fun part. You've pinpointed the issue. You've discovered the answer. You've weighed all of the advantages and disadvantages. You've assembled a dream team of change management aficionados. It's time to get down to business.
Hold as many brainstorming meetings as you need with this group to construct an exceedingly thorough, well-documented plan for navigating your company through this transformation. Consider the following elements when you construct your strategy:
Budget: Your change management initiative's budget must include resources to support the project team and additional change agents, as well as new technology and training charges.
Set a reasonable deadline after estimating the time it will take to complete each phase of your change management process.
Criteria and metrics for success: What does success for your change management program look like, and how will you assess it?
While you may have change management advocates on your team, you should plan for some resistance and figure out how you'll engage with those individuals to assist them to embrace the change.
Technology and existing tech stack required: Consider how your current technology stack might help you with your change management strategy and what holes you might need to address.
Plan how you'll communicate with stakeholders and employees throughout the change process, as well as how you'll collect and act on the feedback you get along the way.
Plan training sessions for all department heads and staff who will be impacted by the change. Keep in mind that your training will most likely need to be tailored to diverse audiences.
There is no such thing as an overly comprehensive approach. This might be the most crucial phase in the change management process, so take your time and make sure that everyone in your team is on board with the strategy.
5. Explain the reason for the change and provide training
You've done a test run and tweaked things, but you're still not ready for the big launch. Only your change management team and the additional employees who participated in the trial run are actually in the loop at this stage in the process. It's time to go public with the big news.
Don't cut corners while conveying the change: poor communication is the leading cause of change management failure.
Hold a gathering to announce and explain the corporate change you're making. Allow complete transparency to your staff, and clearly explain the answers to the questions you developed in stage one, outlining the change.
What issue are you attempting to resolve? What impact will this have on everyone's regular work life? When will this modification take place? Allow plenty of time to respond to inquiries.
It's time to train, train, train once everyone is in the loop. Employees may resist change because they are concerned that a new system would test their abilities, but good training may help relieve this concern.
Hold as many training sessions as necessary prior to the launch to ensure that everyone who will be affected by the change is on board and has the skills and resources they require to meet the challenge.
6. Implement the Change
Now comes one of the most enjoyable aspects of the change management process: implementing the changes! Launching a huge change in the workplace might be intimidating, so make it easier on yourself by throwing a launch party.
Plan a debut date, generate anticipation building up to it, and then celebrate. Make the change something employees look forward to, and set aside time to get the ball moving, whether it's a pizza party, a lunch out, a happy hour, a cheese and wine day, or a game to encourage buy-in and adoption.
During and after the launch, demonstrating leadership buy-in is also critical. What is going to drive your staff to make a change if you and your senior team aren't doing it? Your employees must view you as enthusiastic.
Consider having an executive sponsor give a short presentation or film a video to show at your launch event–and then make sure you (and your sponsor) are following through.
If you're launching a new knowledge management platform, for example, make sure you and other members of the leadership team are routinely publishing material and recognizing those who share their expertise.
Internal marketing is another approach to creating a splash. Consider handing people customized water bottles, t-shirts, or other swag if you're unveiling a new software solution with bespoke branding for your company. You may also upload video lessons that give an overview of the new software or case studies from businesses that have adopted a comparable solution effectively.
7. Review and Maintain Communication
So, while the launch went well, don't stop there. Change is an ongoing process rather than a one-time occurrence. Implementing a huge change but failing to follow up with frequent meetings, regular communication reinforcing the change, and more training is akin to having a great first date but not getting a callback. No one is truly benefited.
Hold weekly meetings for employees to ask questions, voice concerns, and share what they like and hate about the change over the first several months after a big workplace change. After a time (or when things appear to be going well), schedule monthly meetings, and so on. Hold extra training as needed if improvements or upgrades to the product or system are made.
Giving staff a continual means to submit feedback on the platform, such as an open poll, is also a smart idea. You may also conduct surveys at regular intervals (e.g., every six months) to assess the impact of the change and monitor employee attitude.
8. Make a plan for ongoing reinforcement
Change management does not end after a month or even three months. Look for extra ways to encourage the new behavior. Sending monthly emails with key KPIs, attending stakeholder team meetings to deliver project updates, or even honoring individuals who are leading the change in their teams are all examples of this. Employees will need to be reminded of the relevance of the approach on a regular basis until it becomes second nature to them.
9. Tips to Avoid Employee Burnout After a Change
Employees may become burned out and disappointed if there is no continuing reinforcement strategy in place for a large change, even if the change would benefit them in the long term.
To minimize organizational burnout, follow these four change management principles to promote seamless and effective changes inside your organization:
10. Show your empathy
Any substantial workplace change can cause tremendous stress for your staff (which often leads to poor performance and employee burnout). Employees who have recently seen large organizational changes are more than twice as likely as those who have not suffered chronic stress.
Employee burnout may be avoided by having a manager that recognizes the stress that change causes on their team members and supports them to cope with that stress in healthy ways. This can also build business loyalty and comradery during transitional phases.
Encourage your employees to take a vacation and mental health days. Although it might be difficult to take a break from your job, set an example by doing so. The wonderful outcomes that a clean mind may bring to the workplace will astound you.
11. Encourage comments (and Take It Seriously)
Make sure you listen to your team members when it comes to change. You recruited them because they are clever, talented, and bring unique talents and views to the table–so make sure you do.
Continue to have regular meetings to follow up so that your team members have a better knowledge of the progress that is being made, just as you should before adopting change. Encourage team members to express their frustrations and concerns, and then listen to and consider those problems before coming up with solutions.
12. Share metrics and goals so that team members can access
Change in the workplace is difficult enough without having to spend numerous hours looking for the knowledge, instructions, and resources needed to make the required adjustments.
Some technologies, such as knowledge management systems, can let your company's executives publish instructions, processes, and useful resources to assist employees to move smoothly, running surveys, asking and answering questions, and quickly recognizing and rewarding change champions. Your team won't waste time looking for crucial information if your objectives and change paperwork are organized and easily accessible.
13. Recognize and reward changemakers
It's not simple to adjust to change. But champions of change who stand up to the plate when the going gets rough make it a little easier. Have you observed certain employees going above and above to assist others in adjusting to a new change, sharing their knowledge, and assisting their coworkers?
Reward those workers publicly with business goodies, lunch with the CEO, congratulations at your all-hands meeting, or whatever else you think is appropriate. What important is that you demonstrate real thanks to your staff, not the incentive.
Take away
As your company grows, so do the technology and procedures it relies on. It's all too easy for leaders to get caught up in the thrill of this change that they neglect to include everyone. So remember to take a breath, communicate, and properly manage change inside your company. Your workers and company will appreciate it.
This is how to manage resistance to change in an organization.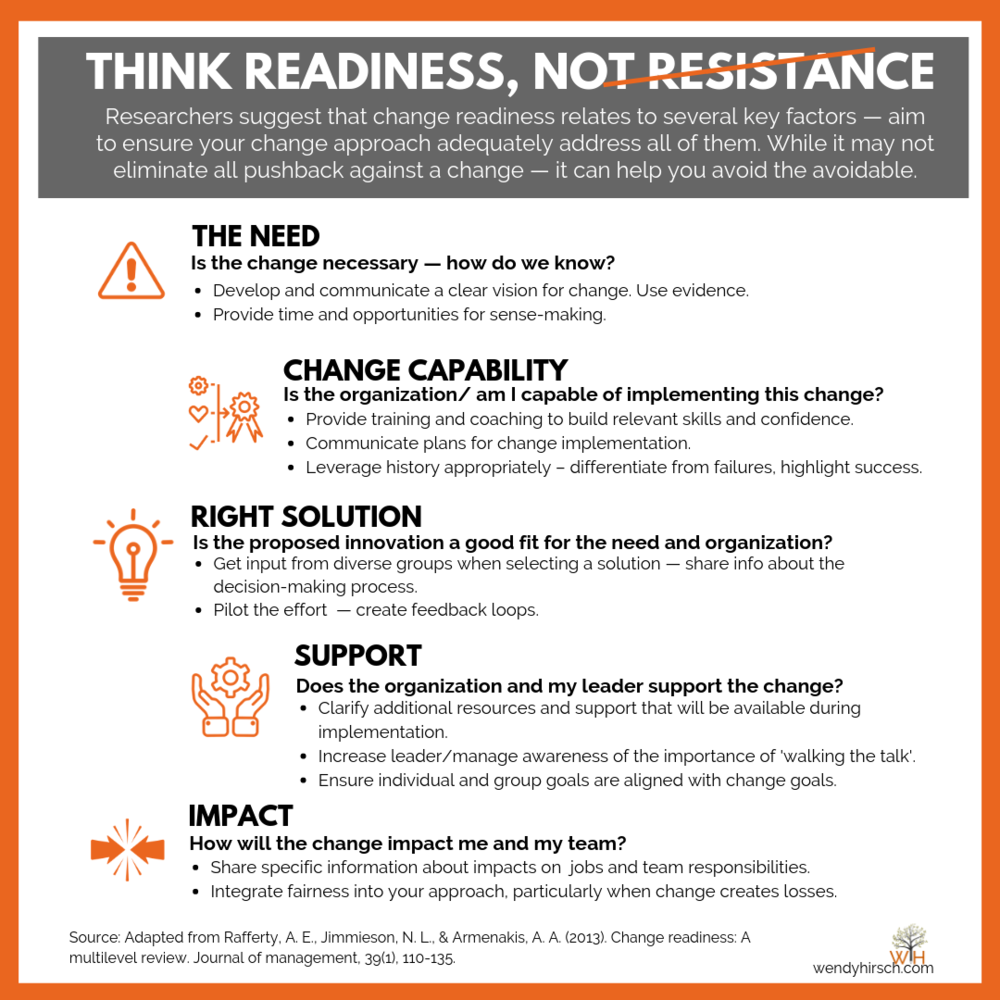 More Interesting Articles